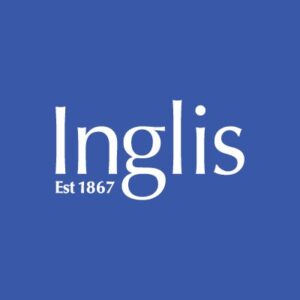 Inglis proudly bring you:
Danielle Seib – Teaching Her Horses A Winning Culture
By John Curtis
IT'S the horses who are top of the class now!
DANIELLE SEIB could have been teaching her students a thing or three, having successfully completed her education degree.
Instead, the young Goulburn trainer is teaching some of her rivals a trick or two as she revels in a breakout season, with 18 winners so far to her name.
Twenty-eight-year-old Seib hadn't intended to take up training outright so early in her life – but is making every post a winner from an opportunity thrust upon her in the most tragic of circumstances.
Her father, popular Muswellbrook trainer Lewis Seib, died from brain cancer in June, 2017.
"Dad was a very experienced and wonderful horseman, and I learnt so much from him," Seib said.
"He was Brian Mayfield-Smith's foreman when he won 99 races in the 1985-86 season and ended Tommy Smith's 33-year reign as Sydney's premier trainer.
"Dad subsequently worked at Kingmaker Stud (now Kingstar Farm) in the Hunter Valley when Bite The Bullet stood there.
"He was also the fillies' foreman at Paul Messara's stable at Scone.
"When he became ill, Shane Cullen (then Hunter and North West Racing Association chief steward) gave me the necessary licence to look after the horses.
"He was very good to Dad and myself, and it was greatly appreciated."
Seib's first runner 13 days after her father's passing was $51 roughie Tudor Sunrise, who ran last in a field of eight, in a Class 2 Handicap (1100m) at Gosford. "She went terrible, and that was her first and only start for me," she said.
But that elusive first winner was just around the corner.
Another of her father's horses, Nic City, easily landed a 1200m Maiden Plate at Mudgee at $18, with Rachael Murray aboard, 17 days later.
Because of her father's association with thoroughbreds, Seib said as a child she harboured an ambition to be an apprentice jockey.
"When I was seven or eight, Malcolm Johnston (former champion jockey) came to a pony club event at Merriwa," she said.
'We had to parade on a pony, and get them up to a canter.
"I was the only one who could manage it, and I remember Malcolm telling Dad: 'This girl is going to be another Kathy O'Hara'.
"No way, said Dad.
"Mum and Dad wanted to make sure I got a good education first and foremost.
"I didn't start riding trackwork full-time until I was 20, along with attending Newcastle University to study for my degree."
Seib moved to Goulburn 12 months into her training career, taking up an invitation to work with leading trainer Danny Williams.
"Danny had brought a horse to Muswellbrook for the Country Championships Wildcard and stayed with us," she explained. "He said there was a job there whenever I wanted, and I thought it would be good experience."
Seib took only three horses, including Assault'n'Bathory, with whom she subsequently hit the headlines in town, winning TAB Highway races at Rosehill in August 2019 and Randwick in January 2020.
She won five races (along with 10 placings) with the now retired eight-year-old gelding, who earned nearly $200,000 in prizemoney.
Even better, he was a family horse. Danielle raced Assault'n'Bathory with her mother Julie, brother David and sister Belinda.
As if she wasn't busy enough with her thoroughbred duties, Seib completed her degree online at Goulburn and for a period taught part-time at Crookwell (half an hour or so from Goulburn).
After three months with Williams, she decided it was time to take the plunge and start training from her own base.
A telephone call out of the blue after having won a race at the Sapphire Coast in January presented her with a challenge – but also the chance to showcase her skills.
And she has done so brilliantly.
Seib made it two wins in a row when Leather Jacket Lew took the Showcase Cup (2200m), in which Tudor Prince ran second last in a field of 11.
"Tudor Prince's senior part-owner Alan Skinner rang after the Sapphire Coast race asking if I would be interested in training the horse," she explained.
"He had done his off fore tendon twice, and the owners had professionally rehabbed him.
"I haven't done anything really different, other than not doing a lot of work with him.
"Obviously he is enjoying the new environment at Goulburn."
A $70,000 yearling purchase, Tudor Prince boasts a Group 1 pedigree. His sire All Too Hard won four times at racing's elite level, and his dam, the Redoute's Choice mare Allez Wonder, was successful in the 2009 Toorak Handicap at Caulfield.
Seib was the rising seven-year-old's third trainer. He had won three races for his original co-trainers, but hadn't been first home since taking a Benchmark 58 Handicap (1650m) at Moruya on August 4, 2020.
Tudor Prince won second-up with 60.5kg at Goulburn on May 22, followed with a Hawkesbury 1800m victory on June 12 and then graduated to midweek city company by scoring over 1900m at Canterbury 10 days later.
He was ridden by Jean Van Overmeire in all three wins, and started at $13, $12 and $11 respectively.
Tudor Prince's Canterbury triumph gave his trainer an important city breakthrough against all comers, putting aside her victories with Assault'n'Bathory, which were against fellow country horses.
"We'll try to win another Benchmark race in town with him shortly, and go from there," Seib said.
Hemmerle is another horse which has boosted Seib's number of winners this season. Purchased as a cast-off online, she won three in a row with him at Moruya, Goulburn and Wagga in January and February, the Corowa Cup in March and another race at Goulburn in April.
The rising eight-year-old has gone north, and is being aimed at the second running this year (because of COVID restrictions) of the famous Birdsville Cup in early September.
Seib and partner Aaron Day (a member of the eminent harness racing family) are understandably proud of their achievements this season.
"I ride work myself, and we have two great staffers in Gabby and Simon," she said.
"The family continue to lend tremendous support. Mum has moved back to Scone and is a partner in the business. She does all our admin work, whilst David and Belinda have shares in some of our horses.
"To be able to win the number of races we have this season with a relatively small stable has been very rewarding.
"Obviously, I would like in future to be making more trips north (to Sydney) to compete at city level.
"Because of enquiries from owners, we are currently looking at doubling our current number of stables (16) to accommodate more horses.
"We had enough confidence in ourselves to outlay $120,000 to buy a Tivachi yearling (named Stand In Line) last year and syndicated him amongst clients. He won't race until his three-year-old season."
In her partner Day, Seib also has the advantage of having a farrier at hand to take care of all her horses' shoeing demands – at no personal cost, of course.
"It's every pony club girl's dream," she concluded.