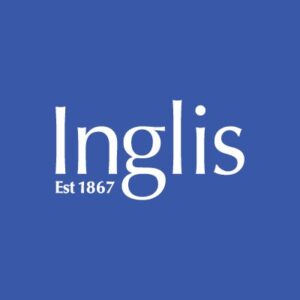 Inglis proudly bring you:
Luke Pepper – Seasoned And Ready To Go At Scone
By John Curtis
IT'S not a guaranteed magic carpet ride. Well not yet anyway.
But LUKE PEPPER is glad he has entered a whole new world.
He has quit his Canberra base and set up shop at Scone in a determined attempt to further his already successful training career.
One hundred and eighty-three winners in the last seven seasons may have been sufficient for others to stay put in the nation's capital – but not 41-year-old Pepper.
And he didn't hold back explaining why he and his partner Tahnee decided to make the bold move to the Hunter Valley.
"Workers' compensation costs have become extremely expensive in the ACT, and financially it didn't make sense to stay in Canberra," Pepper explained.
"There's a $30,000 difference annually to what NSW trainers pay. That's a lot of ground to make up; many winners indeed.
"It wasn't an easy decision to leave, but at the end of the day we had no option.
"You either give up and look to do something else or have a crack elsewhere, and we chose the latter.
"Tahnee and I did our research, and Scone stood out.
"It's a growing club with progressive redevelopment plans, and the strength of trainers based here is excellent."
The financial aspect wasn't the sole reason either Pepper upped stumps.
The Saturday TAB Highways in town were an important factor in the decision from a racing viewpoint.
"Canberra trainers are not guaranteed starts in the Highways, and we're last in the ballot," he explained.
"It's hard to prepare a horse, and then wait often until the last minute to find out if you've got a run. You're in no man's land.
"Now being a NSW trainer, the pressure is off when you have a horse good enough to go to town for those races."
Sydney born before growing up on the NSW South Coast at Moruya, Pepper has both the experience and talent to shine in his new venture.
Whilst he has trained more than 250 winners since taking out his licence in 2009, many racing enthusiasts may not be aware he was an integral part of the team which guided Takeover Target from Queanbeyan to international fame.
"I rode Takeover Target in a lot of his work, and also went to Japan and Hong Kong when Joe Janiak took him there.
"I still speak with Joe (now based at Coffs Harbour) regularly, and remain good friends with his son Ben, who also travelled overseas with the horse.
"Takeover Target was a marvellous sprinter; a freak horse. It was such an amazing experience going overseas with him.
"I especially wanted to go to Japan, where he bolted in with the Group 1 Sprinters' Stakes (1200m) at Nakayama in October, 2006.
"Unfortunately, I couldn't also go to the United Kingdom when Joe took him there as I was working for fellow Canberra trainer Nick Olive at the time."
Pepper rode 50 to 60 winners at the picnics, but weight – the bugbear of so many jockeys – dashed his hopes of riding professionally.
His love of the thoroughbred never waned, however.
He worked at Meringo Stud on the South Coast before joining the stable of iconic trainer Barbara Joseph (who won the 1989 Doncaster Mile at Royal Randwick with Merimbula Bay).
"Nick Olive (now also a successful trainer) and myself both worked with Barb," Pepper said.
"We learnt so much, and the Josephs are still like family to me.
"Barb never lacked a good horse, and one of them I rode in work was Ain't Seen Nothin', who won eight races and ran in the 2003 Melbourne Cup and 2004 Caulfield Cup.
"I was with Barb for seven years until Nick took out his own licence, and I joined him as his foreman."
Pepper took the plunge and joined the training ranks in 2009. His first runner was Real Thing, who ran third at $10 against her own sex in a Maiden Plate (1300m) for mares four-year-old and upwards at Bathurst on September 11 that year.
Only a few weeks later, he broke the ice when former David Hayes' gelding Ganesan, with Tim Phillips aboard, landed a Benchmark 58 Handicap (1600m) at Queanbeyan on October 31.
Pepper's maiden city success came the following June on the Kensington track at the Queen's Birthday Monday public holiday meeting.
He won the PJ Bell Country Championship (a 1400m Benchmark 89 Handicap) with Panderelle (Corey Brown). The Commands mare had also won the 1600m Nowra Cup three weeks earlier.
Pepper spent some time back "home" at Moruya before returning to Canberra in 2015 – and the winners kept flowing.
After 20 in 2015-16, along came 26 and 27 in the next two seasons and then 33 in each of the following two seasons.
Pepper produced 20 winners in 2020-21, and his current tally is 24 as the current season winds down.
The best horse Pepper so far has trained is the now retired nine-year-old Viceroy, who began his career in South Australia.
He joined his Canberra stable after 18 starts, and won three city races at Canterbury in 2017-18 and also was runner-up in the Wagga Town Plate in 2018.
"And we've still got the old boy," Pepper said. "Tahnee has been doing some show jumping with him, and he is in great order.
"Viceroy was such a good horse to us that he has home here for the rest of his days. He is living life like a king."
Pepper shifted camp earlier this month after speaking with Scone Race Club's chief executive Steve Keene.
"I knew Steve when he was CEO at Murrumbidgee Turf Club at Wagga, and he advised me there were 17 boxes available on course," he said.
"The opportunity might never have come around again, and besides I also train mares for a number of studs in the Hunter.
"The set-up is a bit smaller than what we had at Canberra, but the main thing is we have wheels on the ground.
"Though obviously it was a big move, the horses have settled in well and are happy.
"We had the full backing of our clients, and didn't lose one horse.
"We're very grateful for that support.
"No doubt that shows our owners also realise just how well racing in New South Wales is going, with prizemoney continuing to increase."
Pepper said he will continue to ensure he gets the best out of every horse for his owners.
"There's a job to be done. Whether that is racing at the professional meetings or going to the picnics (he won a race at Wean picnics with Ober Purkla on July 9), it's about placing the horses to the best advantage."
Pepper is a hands-on trainer. He rides most of the trackwork himself, and regards that as a great asset to his business, getting a real "feel" for how each horse is going.
"I'm proud of my achievements so far, but this is a different challenge," he said.
"My aim is to build a nice quality stable at Scone. We're in it for the long haul and very happy to be here."