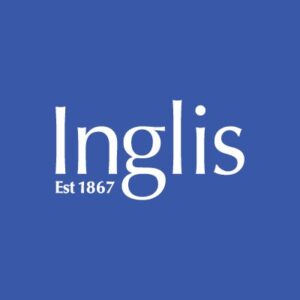 Inglis proudly bring you:
Paul Shailer – "Where Else Would You Want To Be?"
By John Curtis
PAUL SHAILER says it was "the itch I had to scratch"!
When good friend Liam Prior called him last year on the Gold Coast to advise stabling was available at Port Macquarie, that was all he needed to resume training and add another chapter to his career.
After four successful years heading up Sydney maestro Chris Waller's Gold Coast operation, Shailer was ready to take the bit between his teeth and branch out on his own.
"I rang the club at Port Macquarie to seal the deal, and moved there in September," he said.
"We had some luck right from the start, getting a double (with Swing The Tide and Relucent, the latter an ex-Waller horse) at Port on October 9, but everything probably happened a bit too quickly.
"I guess with a bit of a profile being seen on Sky Channel whenever one of Chris' horses won in Queensland, owners were offering me horses and I didn't want to turn them down.
"But I didn't have the resources at the time to adequately cope, and we went through a bit of a lull for a period.
"Perhaps I tried to grow too quickly, and soon realised you have to do it gradually.
"Everything is on track now, and I've had amazing support from owners."
Shailer clinched a double at his home track meeting on April 10 with Mista Razzledazzle ($5.50) and Rapid Rose ($9), both ridden by Ben Looker.
Both are ex-Victorians and were debuting for their new stable. The former, a Contributer four-year-old, was sent to him by internationally-recognised OTI Racing.
"It's always a bonus if you win one race at a meeting, but to win two makes it a great day," Shailer said.
The New Zealand expat, who will turn 43 in June, boasts a wealth of thoroughbred experience – and was never going to do anything else but be involved in the industry.
"I came from Foxton, a small town about 90 minutes north of Wellington, and Chris (Waller) and his wife Stephanie also are from there," Shailer explained.
"I've been around horses all my life. My Dad was a curator, so I was brought up on racecourses.
"As kids, my brother and I used to earn some pocket money before and after school picking up horse poo in the stalls after trackwork."
Shailer had a much earlier introduction to racing than most. After learning to ride on a pony, he rode trackwork at 11 years of age and competed in his first official barrier trial when only 13.
"That would be frowned upon now, and certainly wouldn't happen," he said.
Shailer was apprenticed at Waverley to Kevin Gray, a man whom he says who has guided the careers of so many successful New Zealand jockeys.
"Kim Clatworthy, Bruce Herd, Hayden Tinsley and Lisa Allpress all came through the Kevin Gray school.
"I used to say I was as good as them, but was too heavy to make a career out of race riding," he added, straight-faced as he said it.
Shailer rode 121 winners in three years, competing regularly for the first two and then on and off for the last 12 months as he battled the ever-present jockey's scourge of trying to maintain an acceptable riding weight.
He even had a crack at the jumps, but fell twice and ran last in the other, quickly figuring going over the sticks wasn't for him.
"I remember my first jumps ride was in a 2400m Hurdle, and looking up at the first obstacle and thinking 'this is like being on a roller-coaster, and wish I could get off'."
With Chris Waller having moved to Sydney earlier in 2000, Shailer came across for the Olympic Games, and was offered a position with him.
"I spent 10 years with Chris, starting off riding work before becoming a foreman and then was assistant trainer for the last five years," Shailer said.
"Chris has done a remarkable job. He went from having hardly a horse in the stable at the beginning to 100 pretty well before you knew it, and continues to break records."
Shailer returned home for a period to train jointly with his brother Kris, preparing 60-odd winners.
"We didn't manage to get a Group 1, but trained quite a few black type winners," he said.
"Sadly, New Zealand racing has continued to decline without suitable Government backing.
"It has been and still is a great nursery for trainers, jockeys and horses."
Uncertain about his future, Shailer flew to Sydney at Waller's suggestion to see mighty mare Winx clinch the first of her three Queen Elizabeth Stakes at Royal Randwick in the autumn of 2017.
"We were having a barbecue the day after the race when Chris mentioned he intended opening a Gold Coast stable.
"I didn't have to be asked twice to come on board with him again, and returned to Sydney a few months later to reacquaint myself with his system before heading north."
Shailer says he arrived without a house or a horse, but quickly established the stable.
"I had four terrific years there, and had great staff (a team of 16)," he said.
"We enjoyed a lot of success, especially at our home track at the Magic Millions.
"Shaquero won the 2YO Classic last year, Invincibella reeled off the Fillies and Mares' race three years in a row (2018, 19 and 20), Tumultuous won the Subzero in 2018 and 19 and then Black On Gold won it in 2020, and Madam Rouge took the Snippets that same year."
Six months into his new role, Shailer has prepared nine winners and is happy with how things are now progressing.
"When Liam (Prior) rang to tell me about the possibility of moving to Port Macquarie, I didn't have to think about it," he said.
"I've got good staff, and 25 horses at the moment. My plan is to double that number to 50 in the next two years.
"In achieving that, I'm confident we will be very competitive and get a steady flow of winners.
"There are plenty of Showcase races in the country, not to mention TAB Highways, Country Championships, The Kosciuszko and The Big Dance being introduced later this year to aim for.
"New South Wales is leaving the other states behind. The yearling sale prices are indeed reflective of the that.
"It's a golden era for racing in this State. Where else would you want to be?"