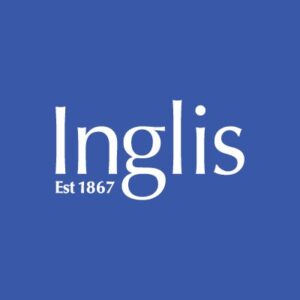 Inglis proudly bring you:
Tony Newing – The "I've Been Everywhere Man"
By John Curtis
LUCKY Starr's famous 1960s hit "I've Been Everywhere" could easily have been written about TONY NEWING.
Whilst the Gosford trainer hasn't been to all of the myriad of places one of the pioneers of the Australian music industry rattled off in his song – such as Cunnamulla, Wallumbilla and Boggabilla – it's fair to say he has travelled far and wide in search of a winner or three.
Newing has won races on no less than 40 racetracks in New South Wales and Queensland, and started horses on another 34 in those two States as well as Victoria.
"I enjoy the travelling, but it's a necessary evil all the same," he said.
"It's the nature reflecting the class of animal we've got.
"I haven't got a stable full of city class horses, so there's no point trying to compete against them."
Given Newing's need to travel, it's not surprising his home track hasn't been his most successful to date.
He has trained 12 winners at Gosford, but eclipsed by Grafton, where he has won 17 races.
"I love the place," he said. "And jockey Matty McGuren, who is based there with his trainer wife Sam, has been my most successful rider, winning 23 races for us."
Thirty-seven-year-old Newing was born at Roma in Queensland; birthplace of the late rugby league legend Arthur Beetson and for a number of years also the home of another Maroons' great Darren Lockyer.
But racing and not football was his passion.
Such a passion that after his family moved to Clifton just outside Toowoomba when he was in Year 4 at primary school, he would head straight to a trainer's stable when the bell rang to help out.
Newing left school and home at 15 years of age to chase his dream.
"I answered an advertisement in The Land newspaper and got a job with Hawkesbury trainer Garry White at owner Grahame Mapp's Hobartville Stud," Newing explained.
"I worked there for a few months, but it was during winter and I got frozen fingers."
Newing moved to Muskoka Farm on the banks of the Hawkesbury River at Gunderman on the Central Coast, and gained further experience there for about three years.
Then he joined the late prominent Sydney veterinary surgeon Gerry Rose, who had a stud farm at Somersby.
"Gerry also had some stables at the track at Gosford, and we pre-trained horses for a number of leading Sydney trainers," he said.
"When Gerry lost his life to cancer, I decided to branch out on my own."
Newing's debut from his Gosford base wasn't auspicious. His first runner West Java tailed home a field of nine at Hawkesbury in February, 2006, but Melbourne Cup day later that year hoisted him into the winning list.
Not at Flemington, but at a corresponding picnic meeting at Rosehill Gardens. He won a trophy race with a mare called Ausbred Kite, ridden by Mathew Scorse.
"We bought her very cheaply, and had some fun with her," Newing recalled.
An unraced two-year-old by Casino Prince was to become the trainer's flag-bearer, though rather by accident than design.
"We had eight to 10 tried horses picked out at a Patinack Farm dispersal sale at the Magic Millions on the Gold Coast, but all were out of our price range," Newing said.
"So we had to go to Plan B and look for an untried young horse. We got Timeless Prince for $8000, and he was our only buy at that sale."
After wins at Taree, Grafton, Tamworth, Orange and Newcastle, the Steve Clarke-raced Timeless Prince gave Newing a city breakthrough when successful at Eagle Farm in April, 2014.
With Larry Cassidy aboard, he bolted home in a 1500m No Metropolitan Win Handicap, making light work of a wide draw.
Timeless Prince wasn't averse to doing that. He did so on at least five occasions, including the 2017 Tamworth Cup at $13 from the extreme outside (14).
Amongst the gelding's 12 wins were two at Royal Randwick and another at Rosehill Gardens, along with providing his trainer with his sole stakes success to date; the Listed 2016 Sunshine Coast Cup (1400m) on a "Heavy 10" surface.
Rising 13-year-old Timeless Prince, who earned just over $550,000 from his 71 starts before retiring from the racetrack, is now revelling in another role as an eventing horse.
"Alyssa Dryden rode him work toward the end of his career, and now looks after the horse just up the road at Ourimbah," Newing said. "She takes him to the jumping shows, and he's doing well."
Though Timeless Prince was clearly his best performer, Newing says King Lear, who won seven of his only 17 starts in NSW and Queensland (including one at Eagle Farm in 2019), had Group class ability.
"King Lear last raced in the Goldmarket at the Gold Coast in 2019 and underwent throat surgery afterwards," Newing explained.
"He had trouble with the first operation and had a second surgery a week later.
"King Lear never recovered fully and unfortunately did not long after due to complications."
Newing admits his stable went into "a bit of a slump" after the Timeless Prince days, and credits syndication company SJ Racing being of great assistance in his resurgence.
"I bought King Lear for them at a Scone yearling sale for $10,000, and he won just over $160,000," Newing said.
"We have developed a great association, and I train mostly for SJ Racing now.
"If we have a horse that I don't feel is up to provincial standard, I will recommend passing it on to Sam McGuren on the Northern Rivers. My wife Stacey and myself are good friends with Sam and Matty."
Newing's Gosford operation is a real family affair indeed.
"Stacey is fantastic, and I wouldn't be able to do this without her help," he said.
"And our two boys Richard, who will turn 18 shortly, and Angus, who is nearly 16, are also keenly involved."
Newing keeps his boutique stable to a dozen horses – and has a reason for doing so.
"I did have up to 24 in work at one stage, but not any more," he said.
"Because we are relatively close to Sydney, it is very difficult to get the right staff.
"Thus keeping the team down to 12 makes it manageable for us."
Because of the size of his team, Newing can't have an apprentice at Gosford, but doesn't mind giving the kids a chance whenever opportunities arise.
Such as Anna Roper (apprenticed to Tracey Bartley at Wyong), whom he took to Gundagai in April for her first race ride.
The youngster had to wait until the final race, but her 4kg allowance proved beneficial on Alpha Go (another SJ Racing horse), who gave Roper a dream debut by winning the Benchmark 66 Handicap (1180m) at $6.
"Anna is a good girl, has a nice seat on a horse and I'm sure she will continue to do well," Newing said.
Though Newing has been travelling all over the countryside from his Gosford base, the mileage he currently does seems certain to be reduced down the track.
He envisages a permanent move to the country sometime in the future.
"I'm sure it will be more beneficial for us, especially considering the class of horse we have.
"It might be two years before we shift, or it might be five years. But it will happen."