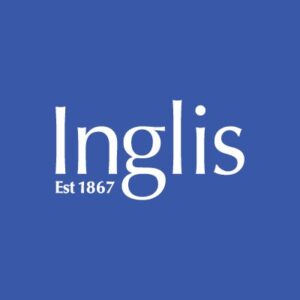 Inglis proudly bring you:
Daniel Robinson – His Biggest "Break" As A Trainer
By John Curtis
IT was the biggest "break" of DANIEL ROBINSON'S racing career!
For such a skilled horseman who has broken in hundreds of horses under his DPR Breaking banner and watched many of them win for other trainers and owners, to finally train his own first city winner was something else.
And the fact that he selected and purchased October 12 Warwick Farm winner Karmazone as a yearling, and races him with his wife Ali indeed put the icing on the cake.
"It was pretty special for both of us, and Ali strapped him on the day, so it could not have been better," Robinson said.
Rather ironically, the couple didn't actually intend racing Karmazone, having secured him at an Adelaide yearling sale in 2017 for $27,000 with the purpose of preparing him for the Inglis Ready2Race sale later that year as an early two-year-old.
But it soon became clear they were never going to part with the now seven-year-old son of Eurozone.
"A friend of ours put together an extended short list of 50 colts for that Adelaide sale," Robinson said.
"We got x-rays done to reduce that number and were looking for a blemish free youngster.
'Karmazone fitted the bill and in the end, it was the price which persuaded us to buy him.
"As soon as I started educating him in the round yard at home, I immediately liked the horse and Ali fell in love with him.
"We decided to keep Karmazone, and so glad we did."
Not that the gelding was quickly set on a path to repay what the Robinsons had paid for him.
He didn't race until an early four-year-old and won his first two starts at Orange and Canberra over 1400m in September and October of 2019.
Karmazone's city breakthrough earlier this month in a Benchmark 78 Handicap (1600m) on a heavy Warwick Farm surface was the sixth victory of his so far 26-start career, and lifted his earnings to only two grand shy of $180,000.
Robinson, 33, has come a mighty long way since arriving in Australia from England in 2009 – and not only in distance travelled.
He worked in no less than four States before finally finding his niche in New South Wales, launching his breaking-in business and training a few horses as a side to that.
Robinson was born in Hong Kong where his father, former champion jockey Philip Robinson, was riding at the time.
Robinson is the only Englishman to have won two premierships in Hong Kong (1988-89 and 1989-90), after also twice being British flat racing champion apprentice earlier in his career.
A young Daniel Robinson grew up around horses at England's famed racing venue of Newmarket, and for a time attempted to follow in his father's footsteps.
"I rode for a while on the flat and even had a go over the jumps as my weight increased, but that wasn't for me," Robinson said.
Whilst he was always keen to train, a trip to Australia wasn't necessarily a given and certainly wasn't intended to become permanent.
"Dad felt I should go to either America or Australia to learn a different training culture in another part of the world," Robinson explained.
"The USA seemed appealing, but one of Dad's good friends, former Irish jockey Declan Murphy, knew the Hayes family in Australia and arranged for me to join David at his then Lindsay Park base in the Adelaide hills.
"I arrived in April 2009 and spent three months with David, and then three months with well-known Perth trainer Neville Parnham to ensure I fulfilled the requirements of my working holiday visa."
Robinson spent some time again working for Hayes in Melbourne during the spring carnival before returning home for Christmas with the family.
When he returned in the new year, Hayes was keen to use his services to break in horses in the Snowy Mountains.
Enter Paul Snowden, who was running the Melbourne arm of Darley for his Sydney trainer father Peter.
"Paul heard what David said one morning at the track, and followed me and offered a position in NSW breaking in Darley horses at Belmont Park," Robinson explained.
"It was an easy decision. For a Pommie, Sydney was much more appealing than the Snowy Mountains."
Robinson filled a dual role, riding trackwork at Hawkesbury for a few trainers before going to his Darley job.
Having met trainer Bruce Johnston at Hawkesbury, he subsequently moved on to breaking in horses for Nathan Tinkler's Patinack Farm.
"Patinack Farm was keen to sponsor me to enable continuation of my working visa, and I lodged the paperwork for that," Robinson said.
"Whilst waiting for that to be approved, I had the opportunity to go to Murgon in Queensland to join a legendary horseman named Ian Francis.
"He is regarded by many as the best in the world.
"Ian's horsemanship skills are such that he has been recognised with Hall Of Fame status in several disclipines such as quarter horse, cutting and reining.
"He is also a member of the Furlong Stud Hall Of Fame in Toowoomba, and was awarded an Order Of Australia Medal for his services to the equine industry.
"Ian is an absolute idol of mine, and we speak regularly on the phone."
Robinson moved back to Sydney when his visa was approved and spent two and a half years with Patinack until approached to return to Queensland and take out his licence, training for prominent breeder-owner Stan Johnston at his Craiglea Stud farm at Kenilworth in the Sunshine Coast hinterland.
His first runner was Craiglea Celica, who finished third in a 1000m Maiden at Bowen on October 5, 2013.
"I had a number of runners, but wasn't able to win a race and stayed for only a few months," Robinson said.
"Henry Plumptre was then managing Godolpin's Australian operation, and employed me to break in horses at their Aberdeen property in the Hunter.
"Henry was terrific, and went out of his way to help secure my residency in Australia."
Robinson also worked for Sydney's leading trainer Chris Waller, along with setting up his DPR breaking business, initially at Orchard Hills and now at Windsor Downs, closer to Hawkesbury racecourse.
"It is only six minutes to the track for fast work, whereas before it was around 25 minutes," Robinson said.
'We have 60 acres, and it's a good set-up with a 25-acre paddock for slow work and a big dressage arena.
"I also like riding the horses around the roads in the estate. They're not busy roads and the horses enjoy the variation to their training routine."
Whilst Robinson principally breaks in thoroughbreds, he has expanded to now also breaking in young horses purchased by Australian trainers at the increasingly popular Tattersall's sale in England.
"Thoroughbreds are not solely our business though," he said. "I also break in performance horses."
Robinson says he trains purely as a hobby, and having recently retired his first ever winner Dexluther (a 2000m Class 1/Maiden Plate at Bathurst just before Christmas 2018), has only two of his own in work.
As well as stable star Karmazone, who is likely to contest another Benchmark 72 Handicap (1800m) at The Big Dance meeting at Royal Randwick next Tuesday (his rating went up only four points from 68), he has an unraced Sidestep gelding named New Quay.
Like Karmazone, he was also an Adelaide yearling purchase, in 2020 for just a tad more at $30,000, and is so far an unraced four-year-old.
Similarities they may be, but only time will tell whether he turns out as good as his well-performed stablemate.
The Robinsons also have a so far unnamed Sooboog two-year-old, which they will race with friends Ben Culham and David Blumberg.
Breaking in horses obviously isn't everyone's cup of tea and it's hard work, but Robinson isn't complaining and has no plans to shelve that and concentrate full-time on training.
"I really enjoy educating these young horses and don't see myself doing anything else anytime soon," he said. "The older you get, the more skilful you become and thus there's less chance of injury."
. HOOFNOTE: Robinson's racing colours of navy and white are almost identical to those worn by his father (now racing manager for Rabbah Bloodstock in the UK) in his first classic success – the 1984 Thousand Guineas at Newmarket on the brilliant filly Pebbles, regarded as one of the best of her sex in the modern era.
Pebbles was sold to Sheikh Mohammed after her Guineas victory and the following year became the first British-trained horse (she was prepared at Newmarket by Clive Brittain at Newmarket for her eight wins from 15 starts) to land a Breeders' Cup feature in the USA, winning the Breeders' Cup Turf (2400m) at Aqueduct.