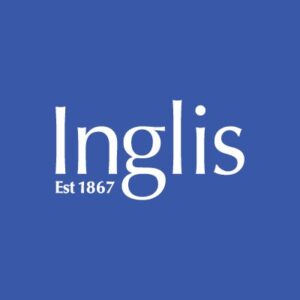 Inglis proudly bring you:
Garry Frazer – A Horseman Through And Through
By John Curtis
TALK about the vagaries of this racing game!
For a provincial trainer to have a horse good enough to be invited to run in a prestigious Japan Cup is indeed a rarity.
It happened to long-standing Hawkesbury trainer GARRY FRAZER in 1995 – but sadly circumstances conspired to prevent him from accepting the invitation and showcasing his wares on racing's world stage.
"I got the phone call from Japan for Turridu to go there and run in their Cup at the end of November that year," Frazer recalled.
"Unfortunately, I was at Werribee Vet Clinic at the time with the horse, who had been badly injured in the Group 1 Caulfield Stakes (on October 15) and was unable to finish the race.
"Mick Dittman rode Turridu, who jumped the crossing not long after the start and broke his pelvis in seven places. The crossing was never in use again."
Former Randwick trainer Bob Thomsen won the Caulfield Stakes that day with the other Australian Japan Cup invitee, who ran ninth to German stayer Lando. Turridu had beaten Danewin three weeks earlier in the Group 1 George Main Stakes at Randwick.
"Turridu's injury was a tragedy in more ways than one," Frazer said. "Not only did he give me my first two Group 1s (the first was in the 2400m Queensland Derby in June, 1995), but he was as good a 2400m horse as there was at the time and would have been a terrific chance in the Japan Cup.
"I've been involved breaking in a lot of good horses over the years, and had some good ones myself, but Turridu was the best horse I have put a bridle on.
"The vets wanted to put him down after the Caulfield Stakes, but I wouldn't let them.
"He wasn't expected to race again, but made it back to the track 18 months later. It was a miracle.
"We had a special shoe (eight to 10 times heavier than a normal shoe) made to help him, and I walked him and walked him and walked him."
Whilst Turridu, not surprisingly, wasn't able to recapture his brilliant earlier form, he did manage two placings, including a very close third at $151 to other Group 1 winners Sharscay and Yippyio in the 1998 Craven Plate (2000m) at Randwick.
In spite of his lengthy absence from the track and failing to win again after his Caulfield Stakes mishap, Turridu still earned more than $900,000 – and his trainer estimates it would have been closer to $5m in today's burgeoning prizemoney climate.
Ironically, the gelding was almost barred by stewards following an erratic performance on debut at Bathurst in an 1100m two-year-old race on October 25, 1993.
"Turridu was a real s…head at first and we had him cut (gelded) early. I thought he would just win at Bathurst and he ran third, beaten about eight lengths, in a field of five and all but knocked the other four down," Frazer said.
"I pleaded with the stewards not to bar him, and thankfully they didn't when I told them I thought he would make into a really good horse."
Turridu came under Frazer's guidance after he had agreed to train his troublesome older half-sister Carmencita.
"She was initially trained at Randwick, and they had problems getting her onto the track," he said.
"I had to take her to Cowra to win a race (with Bill Aspros aboard), and the owners gave me the half-brother.
"Turridu was a completely different sort of horse. I never lost faith after that Bathurst debacle, and we won nine races with him."
Whereas Dittman (Queensland Derby) and Aspros (George Main) partnered Turridu in his Group 1 triumphs, ageless Melbourne gun Damien Oliver rode Frazer's subsequent elite level victories more than 20 years apart.
"Ollie" won the 1998 Champagne Stakes at Randwick on Quick Star and 2019 Robert Sangster Classic at Morphettville on Spright, who overcame the outside barrier and stormed home, retiring to stud soon after with earnings of nearly $1.4m.
"Quick Star had run ran second in the Sires at Randwick a fortnight earlier, and Ollie got him home in the Champagne (subsequent triple Group 1 winner Shogun Lodge was third)," Frazer said.
"Whilst your first Group 1 winner is always special, I was really pleased to see Spright win in Adelaide. She deserved a Group 1."
A horseman to his bootstraps, Frazer's foray into racing was never going to be anything else. Born at Grenfell and the eldest of five brothers, he was only 11 years of age when his father Les tragically died.
"Dad trained Sharply early on in the bush, but he had gone to another trainer when he defeated the mighty Tulloch in the 1961 Sydney Cup before TJ Smith's champ turned the tables in the Brisbane Cup," Frazer said.
"We were always around horses. We broke in ponies and rode them to school at Grenfell, and put them in the paddock across the road, riding them home again when school finished.
"You could ride them down the main street. They were the best educated ponies anywhere."
Frazer as a young man trained for a short time at Cowra, recalling his last winner there was ridden by Ray Markey (of Markey Saddlery fame).
He was 20 when he moved to the Hawkesbury district to work for Ron Barr at Osborne Stud (now Godolphin's Osborne Park), then worked for Barry Cameron at Castlereagh, breaking in a lot of yearlings for the Ingham brothers (and later also broke in plenty for Gai Waterhouse).
Frazer's horsemanship skills came to the fore when he asked if he could "have a go" with one of Hyperion Thoroughbreds' horses Ebony Flash, who had gone amiss.
"I won a 1300m Trophy race with him at Hawkesbury first up after two and a half years," he said. "Gavan Duffy rode him."
That success rekindled Frazer's love of training and he has been an ornament to the industry and a wonderful advertisement for his home track at Hawkesbury for nigh on five decades.
He also has the rare distinction of holding a dual code licence.
Diagnosed with sugar diabetes, Frazer took up training greyhounds about 30 years ago, realising walking his dogs would provide valuable exercise.
"It's a nice adjunct to the horses, and I enjoy it," he said. "Normally I keep only one or two in work, but my greyhound partner Wayne Edwards and myself have more dogs than we've ever had.
"We have been mates for 40 years."
Turridu has been Frazer's best horse to date, but he spoke glowingly about Spright's older half-brother Way We Go (both out of the Dash For Cash mare Dashoff).
"He raced only four times, and could have been anything had he stayed sound," he said.
"Way We Go bolted in at his first start in a midweek race at Warwick Farm in the winter of 2015 and the following month won a Saturday race at Randwick.
"Tendon trouble surfaced when he was beaten at Canterbury a fortnight later, and he didn't race again for three years. He ran last at Rosehill and that was it."
Trainers of Frazer's ilk don't survive as he has without the support of great clients, such as the iconic White family and Steve Wilde.
"Steve has had horses with me for years and years, and the Whites (Spright raced in their familiar white, purple star and hooped sleeves) have been absolutely fantastic.
"I've got three horses for them at present; the lightly-raced Tocomah and Rita May (already winners) and an unraced American Pharoah two-year-old filly from another daughter of Dashoff that I trained (Mine Two)."
Now 70 and never far from putting his hands on a nice horse, Frazer has scaled back in recent years and keeps on average a dozen in work.
"But there's always room for another horse if I'm offered one," he concluded. "You never know if the next Winx might walk through the stable door."