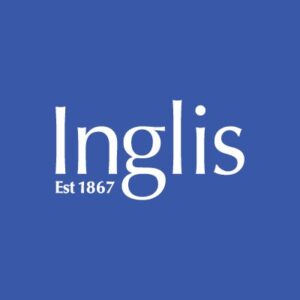 Inglis proudly bring you:
Gary Colvin – A Memorable Racing And Footy Double
By John Curtis
BYSTANDERS were bemused when GARY COLVIN let out a loud roar at Royal Randwick on the opening day of The Championships on April 2!
And it had nothing whatsoever to do with the highly regarded Southern Districts trainer clinching his biggest achievement in racing that day by winning the $500,000 Newhaven Park Country Championships Final (1400m) with his stable star Another One.
But the classy sprinter's victory indeed provided Wagga-based Colvin with a special double on a memorable day.
The reason for Colvin's delight arose from daughter Gabrielle's victory in the AFL womens' preliminary final at the Melbourne Cricket Ground.
"Gabrielle plays for the Melbourne Demons, and they were three goals up against the Brisbane Lions when I checked the score," Colvin explained.
"They finished up winning by four points, and I gave a good cheer.
"People near me were wondering what the hell was going on as there wasn't a race being run at the time.
"Gabby is a talented sportswoman. She is a fair bit younger than our boys Brodie and Matthew, and was a very good netball player at home before she went to Melbourne.
"Someone suggested she should have a crack at Aussie Rules, and she has taken to it so well.
'We flew over to Adelaide a week later to see her play in the Grand Final, but unfortunately the Crows were too good (and won by 13 points)."
Colvin, who says he has been training for "around 30 years", bought Another One (Super One from the Husson mare Herewegoagain) without a detailed check of his pedigree at the Highway session of the 2019 Inglis Classic yearling sale.
"I had never looked at him and certainly didn't plan to buy him beforehand, but he caught my eye when I noticed him walking around in the ring outside the selling auditorium," he said.
"I thought he looked a nice horse and decided I would try and get him."
Another One was knocked down to Colvin for $18,000 – and his Country Championships Final victory lifted his earnings from only 15 starts (which have included six wins and four placings) to almost three-quarters of a million dollars.
"I didn't push him early and started him only twice as a two-year-old late in the 2019-20 season," Colvin said.
"He had shown ability on the track and when he won a 900m Corowa barrier trial easily, I thought we might have something allright.
"I ran him in a Two-Year-Old Handicap over 1200m first-up at our Wagga Cup carnival, and he ran into Lion's Roar (who later that year was runner-up in the Group 1 Champion Stakes at Randwick, and the following autumn won the Group 1 Randwick Guineas and was placed in the Group 1 ATC Derby).
"He was narrowly beaten and probably should have won, and then I took him over the border for the Jack Maher Classic at Wodonga.
"Unfortunately he got away from a barrier attendant and had to be scratched.
"Another One came back and broke through at home at his second start before going for a break."
The now four-year-old is part of a "Trifecta Syndicate" which Colvin puts together, offering three horses in a package deal, hence the name.
"It gives owners a chance to race three horses for a reasonable cost, and is a lot of fun.
"We've got a great group in Another One. As well as myself and my wife Karen, the ownership group includes people from my birthplace at Tullibigeal, West Wyalong, Wollongong, Sydney and a couple of cousins from Townsville."
After finishing a close second to Art Cadeau in last year's Country Championships Final, Another One would have been expected to gain a slot in the $1.3m The Kosciuszko (which Art Cadeau also won), again for country horses, later in the year.
He was overlooked – but his trainer wasn't fazed and let it go through to the 'keeper.
"Another One was the forgotten horse because he was very unlucky not to have won the Country Championships Final after being forced to race three wide," he said.
"We had a couple of enquiries, but they wanted this and wanted that, and we didn't bother pushing the issue any further.
"Anyway, I guess we had the last laugh," he added, a reference to the gelding's recent Randwick triumph.
Colvin understandably took tremendous satisfaction from going one better in the 2022 edition of the Country Championships.
"We had to wait six weeks between winning our SDRA Qualifier at home and the Final, so it wasn't a simple task.
"It was all about keeping the horse happy, and fortunately we had an uninterrupted preparation."
Racing has long been in Colvin's blood. His father Fred was an amateur jockey, and his uncles Noel and John rode professionally.
Like his late father, Colvin moved from Tullibigeal to Wagga in 1973 when he was 17 and took up an apprenticeship as a joiner, and played footy.
"Later I teamed up with Dad, who trained a few horses, in the mid-1980s and purchased land opposite Wagga racecourse and built a few stables.
"When Dad retired, I trained on my own but basically as a hobby for quite a while before getting serious and building a new stable complex in 2004.
Colvin now has one of country racing's best set-ups, being the only trainer in Wagga to possess an equine swimming pool, along with a 10-horse walker.
"I've got two blocks of stables with accommodation for 50 horses, but don't like to keep more than 20 in work at a time, although I've got 26 at present.
"I rent the remainder to a breaker, and we get on well. It works good."
Colvin, now 66, says he is a "bit of a humble man" and enjoys any success which comes his way.
"I enjoy what I'm doing and there's always something to do, but when you start out in this business, the odds are that you're not going to make it overnight.
"You've got to keep working hard and hang in there, and hope that you can find a half decent horse as we have with Another One."
HOOFNOTE: Colvin will have a strong representation over the two days this week of his hometown Cup carnival.
And, of course, his stable flag-bearer will be at the head of the queue – but this time with a difference.
Whilst Nick Heywood is Another One's regular rider and has been aboard in five of his six wins (including last month's Country Championships Final), he isn't able to continue the association in the $200,000 Showcase Wagga Town Plate (1200m) because of the Quality conditions.
Thankfully, Colvin has a ready-made replacement in lightweight jockey Brock Ryan.
"Another One won't get Nick's weight, but Brock knows the horse as he has ridden him before, and his uncle is one of the owners," he said.
"He is working well, and had a nice tick-over trial here on the Riverside course on April 21.
"We'll give him a good break after the Town Plate. Who knows? Perhaps we'll get a chance this time to have a crack at The Kosciuszko later in the year!"