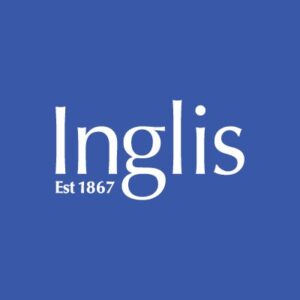 Inglis proudly bring you:
Graham Payne – Horses And Not Pub Life Now His Calling
By John Curtis
IT'S no longer all beer and skittles! Pub life that is.
But Northern Rivers trainer and former publican Graham Payne is relishing focusing more on family and his horses, having sold his 12th and last hotel (Stuarts Point Tavern) just before Christmas last year.
"We moved out in mid-January, and don't miss it one bit," 64-year-old Payne (no relation to Rosehill-based David Payne) said.
"I've been able to do a bit of travelling with the horses without having to race back to the pub, and won a couple of races last month with Fighting Magnus at Taree and Ipswich.
"He ran second at the Gold Coast last Saturday, and is now having a break.
I'll get him back and have a crack at the Grafton Guineas in July."
There is probably no greater fan than Payne of buying Victorian horses and exporting them north.
He has a great contact in bloodstock agent Darren Freyer, who specialises in sourcing tried horses, and has had wonderful success acting on his advice.
"Fighting Magnus ran second last of 13 in an 800m trial for two-year-olds at Cranbourne last May," Payne said.
"He hadn't raced when I bought him for $7500 on Darren's recommendation, and he's already earned just over $40,000."
Free of the pub shackles, Payne was on the move again this week.
He has taken three horses – Imprinted, Our Musketeer and Justinian – to Queensland to race at Toowoomba today.
"I'll stay overnight and head home on Good Friday," he said. "There's no rush."
Payne might have quit pub life, but there's no way Payne and wife Christine were going to quit Stuarts Point, an idyllic riverside hamlet on the Macleay Valley Coast.
"We love it here, and it's only 45-50 minutes to my stables at Coffs Harbour racecourse," he said.
"I've got good staff, who live reasonably close to the track."
Payne has six horses in work at present – and there are no prizes for guessing they are all ex-Victorians.
"I've just bought an unraced Dissident three-year-old from Victoria," he said.
"He was to have gone to Hong Kong, but failed the stringent veterinary examination.
"He had run second in a trial, and I was able to get him. Took a fair share myself, and had no trouble syndicating the rest of him."
When we chatted late on Monday afternoon, the long-time publican was playing host to two of the couple's eight grandchildren, enjoying a holiday from Wauchope courtesy of the first term school vacation.
Though running pubs has played a major part in his life, Cessnock-born Payne has also long been passionate about racehorses.
"I helped out the late trainer John Wilkinson at his Cessnock stables when I was around seven years old, and later as a teenager rode several horses exercise through the bush each morning for now retired trainer 'Puddy' Davies," he said.
Payne recalls taking a decent five-figure amount out of the ring at a non-TAB meeting at Taree with a horse called Major Magic (ridden by Peter Graham) in his first stint as a trainer in his own right.
But rugby league was calling, and he headed off to Queensland for a time.
It took a serious heart attack in 2008 whilst running a country pub at Cudal near Orange which triggered his racing "bug" again.
"After initially getting five stents put in, I got angina again and finished up being told to pack my bags and was flown from Orange to Sydney," he explained.
"I spent 14 weeks in Royal Prince Alfred Hospital and remember Dr Mark Adams, who saved my life, telling me that 'two out of five don't make it'".
Payne's health troubles weren't over. After picking up an infection to the heart, he was back in Sydney and had three bypasses at Strathfield Private Hospital.
His aorta exploded when on the operating table. Miraculously, he pulled through.
Having "danced with the devil three times and beaten him", as he so aptly put it, Payne and his wife went back to the Hunter and began to get serious about his health.
The couple settled at Muswellbrook, and he got involved again with the horses, figuring the exercise would be of great benefit.
He had "a couple of slow ones" before calling on his Melbourne mate Freyer, who along with his associate Peter White, got him going with a $27,000 package deal involving two horses (Kinetics and Secret Encounter).
Secret Encounter won first-up at Muswellbrook in early 2011 (when trained by fellow Cessnock local Jeremy Sylvester), before Payne renewed his licence and also won first-up with him a few months later at the same track at double figure odds.
"Kinetics was beaten narrowly at $26 at his first run for us, and proved to be a terrific buy," he said.
"He won the Muswellbrook Cup at $17 also in 2011, and a number of other good country races."
Payne's obvious ability for training racehorses should in no way diminish his accomplishments as a talented sportsman in his earlier days.
He was the youngest at 16 to play first grade soccer for Weston, represented Cessnock in winning the rugby league competition in 1977, and four years later also won it as captain-coach of Greta.
Payne eventually realised his ambition to represent Cessnock at first grade soccer, and also at 16 knew how to use a cricket ball, opening the bowling for his home town team.
He could use his fists just as effectively, making the final of the NSW Golden Gloves in 1975 before losing to Phil McElwaine, the Commonwealth Games middleweight gold medal winner at Edmonton three years later.
But there is one success which Payne rates as his most satisfying – the 2018 Jungle Juice Cup at his beloved Cessnock, even surpassing his NRRA Country Championships Qualifier victory last year with Baileys, despite the latter being worth considerably more prizemoney.
"You always want to win your hometown Cup, and I had tried to win it quite a few times without luck," he said.
"To finally win it in 2018 with Kentucky Flyer was a tremendous thrill. I was lost for words when interviewed on Sky Channel afterwards.
"This was the second last Jungle Juice Cup run at Cessnock (now owned by RacingNSW), so it made it even more special."
Payne at the time was based at the Criterion Hotel at Crookwell in the Southern Tablelands – and it's fair to say he "shouted the bar" on his return, having brought off a $15 to $4 favorite plunge.
Payne raced Kentucky Flyer with Newcastle bloodstock agent Darrell Kidd and Sky racecaller Anthony Manton, and started him for the first time after buying him a few weeks earlier.
And, of course, the gelding came from Victoria. Where else?