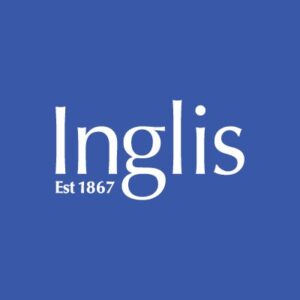 Inglis proudly bring you:
Jason Coyle – Horses Won Out Over Hospitality
By John Curtis
WHEN it comes to being bitten by the "racing bug", JASON COYLE can put his hands up!
A promising career in the hospitality industry already was his, but he gave it away to get involved with the horses.
"I'm not sure it was the stupidest or smartest decision, but I wanted to learn as much as I could about the horse, initially from a punting viewpoint," Coyle said.
After serving a lengthy apprenticeship with a number of Royal Randwick trainers, he eventually took up training in his own right in 2005.
Seventeen years down the track and now firmly entrenched at Warwick Farm after starting out at Newcastle, he is approaching a career tally of 500 (currently on 484 following Mandalorian's Nowra victory two days ago).
Born in the Canterbury-Bankstown district, Coyle had no real interest in thoroughbreds as a youngster, but it started to change in his high school years.
"Dad liked a bet, and I began to get interested in the punting side of racing," he explained.
"I started to learn how to do the form, and was hooked.
"School days on Wednesdays soon became a thing of the past. I was at Canterbury more so than at school."
Coyle didn't initially start out in racing, however.
"I did a hospitality traineeship at Woolloomooloo Bay Hotel with major hotelier John Franks," he said.
"I've never been able to get him involved in a horse though. He's too smart for me.
"Having completed my traineeship, I managed the Bondi Hotel."
But racing was tugging at his heart strings, and won out, joining Gai Waterhouse's Randwick stable.
"I spent four to five years there, started from the bottom and worked my way up, learning as much as I could about all bases," he said.
"Then I moved to John Size (now one of Hong Kong's iconic trainers), and worked with one of the best crews you could ever be with.
"Joe Pride was there at the time and of course is now a very successful trainer.
"John was so good. He had a remarkable knack of getting moderate horses and turning them into stakes winners."
Coyle also worked for fellow Randwick trainers John O'Shea and David Payne, who set up shop there after arriving from South Africa in 2002 before later shifting camp to Rosehill Gardens.
"I joined David just after he came to Sydney as he was gradually starting to put a team together, and worked for him as foreman."
Come 2005 and Coyle figured it was time to take the plunge and train in his own right.
"I went to Newcastle because I couldn't get a start in Sydney," he recalled.
"I'll never forget my first two runners at a Sunday meeting at Hawkesbury (on July 24 that year). They went like busteds."
Rolling Crown and Overly were both 100-1 shots and ran in separate Two-Year-Old Maidens. They were beaten nine and eight lengths respectively.
Success was just around the corner, though. After another failure at Newcastle, also at $101, Overly relished the drop from provincial to country class and gave her trainer his breakthrough winner at Taree on August 19.
"Robbie Brewer rode her and she bolted in (by six lengths) in a 1600m Maiden at $26," Coyle said.
Through a local vet he was using, Coyle attracted the attention of mid North Coast-based Serene Lodge, managed by Nathan Tinkler's father Les.
"They were looking to focus more on provincial and metropolitan racing, and it was recommended I be given a try," Coyle said.
"Nathan called me, and said they would soon send a few horses to Newcastle.
"It was about six months before that happened, and eight horses arrived.
"They weren't high-priced yearlings as such, but I was fortunate enough to get a gelding named Soiled and a mare called Subtle Cove, and won stakes races with them.
"I won first-up with both in late 2008; Soiled at Port Macquarie and Subtle Cove at Newcastle.
"Soiled won a couple of Listed races at Eagle Farm. He was a terrific old horse.
"Subtle Cove went from winning at Canterbury in restricted class to taking the Group 2 Sunline Stakes at Moonee Valley in early 2009."
Nathan Tinkler had influenced Coyle to move to Warwick Farm and set up a big stable at Warwick Farm.
"I remember filling up the stable around Christmas, and the quality of the livestock was out of this world.
"Nathan was buying yearlings everywhere.
"After having 10-20 horses at Newcastle, suddenly I had more than 60 in work."
Coyle won two Group 1's with two-year-olds (Onemorenomore in the Champagne Stakes at Randwick and Linky Dink in the TJ Smith Stakes at Eagle Farm) for Tinkler in a short space of time in late autumn/early winter of 2009, and then opened the new racing season by capturing the Group 2 wfa Warwick Stakes (1400m) at Randwick in August with three-year-old Trusting, having only his third start.
"Trusting was the best horse I have ever had in my care," Coyle said. "He had raw ability, and was a natural athlete.
"He went from the Warwick Stakes to run second to Denman in the Golden Rose at Rosehill Gardens a week later, and was unlucky not to have won. He was near last in the field of 15 with only 400m to go.
"That was his last run for me. Nathan brought in John Thompson to also train his horses on a 50/50 split basis and took over Trusting."
Coyle surely wondered if he could have done any better, and it wasn't long before he parted company with the then leviathan owner.
He still kept a few of Tinkler's horses, and understandably had a wry smile when he won the Listed Breeders' Plate with the owner's Shamardal colt Run For Wilson on debut at $10 at Randwick in early October during the spring carnival.
That was the two-year-old's only start for Coyle. "It was obviously disappointing the association with Nathan ended, but I had to move on and rebuild and it's water under the bridge now anyway," he said.
After moving to Randwick and renting boxes from the Australian Turf Club for a couple of years, Coyle got the opportunity to switch back to Warwick Farm – and happily did so.
Tallies of 21, 24, 50, 36, a personal benchmark of 60 in 2016-17, 46, 44, 42 and 34 winners in the last nine seasons are indeed testimony to his training skills.
Coyle almost landed the Group 3 Hawkesbury Crown at the stand-alone meeting with underrated mare Pippali, and is looking to go one better in Saturday's $200,000 Dark Jewel Classic (1400m) at the Scone carnival.
The daughter of Ilovethiscity won the Provincial-Midway Championships Wild Card at Newcastle on March 31, but didn't fire on the 'Heavy 10' in the $500,000 Final at Royal Randwick on April 9.
"It was a similar rating at Newcastle, but she wasn't comfortable in the ground at Randwick and bounced back at Hawkesbury," Coyle said.
"She will go for a break after the Dark Jewel, and then we will get her ready for the spring and next autumn.
"Pippali is a good mare and deserves to win a stakes race. If it's not at Scone, hopefully we can get it next season."
Such an achievement would be especially satisfying given she is raced by long-time supporters, the Esplin family.
"I've won stakes races in their colours with Slightly Sweet and White Moss. They gave me horses after I won with a Charge forward filly Lady Be Great at Warwick Farm in 2011.
"She had plenty of problems, but we were able to win with her on debut and I was pretty emotional afterwards knowing how tough and talented she was dealing with her issues.
"She raced only four times for two wins."
Coyle, who turns 45 in September, has a simple philosophy. "I have never been shy of racing fit and well horses, and placing them to the best advantage," he said.
"Winning prizemoney for my owners and thus helping them pay the bills is paramount.
"On average I keep around 40 in work, and continue to try to improve the quality. That always wins out over quantity; at least that's what I tell myself anyway."
Just as the horses did over hospitality!