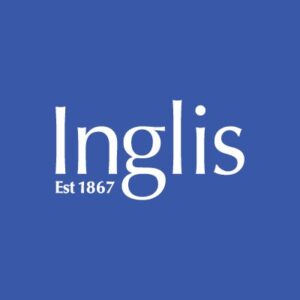 Inglis proudly bring you:
Kerry Parker – Success Could Not Have Tasted Sweeter
By John Curtis
SUCCESS could not have tasted sweeter!
As Kembla Grange's KERRY PARKER basked in the glory of stable star Think It Over's stunning $4m Queen Elizabeth Stakes victory on Day 2 of The Championships at Royal Randwick, he reflected on the long and hard road to eventually reach such dizzy heights.
Having taken out his trainer's licence in 1991, he recalls starting out with two horses who were virtually retired.
"There were three different times early on where I didn't have a horse to my name, either in the stable or in the paddock," he said.
"It was tough going for sure, but fortunately I was able to ride trackwork for other Kembla Grange trainers to make ends meet."
Wollongong-born Parker, now 55, clinched his first major triumph in 1994 with Gold Sovereign in Australia's oldest classic, the ATC St Leger Stakes, which then carried Group 2 status.
Gold Sovereign later that year became Parker's first Melbourne Cup runner when he tailed the 24-strong field home at $401 behind Jeune, ridden by Wayne Harris.
His only other runner in the famous race has been Don Raphael in 2004 for the late popular Sydney racing identities Don and Val Storey.
Parker won six races with the gelding, including the Group 2 Saab Quality (the old Hotham Handicap) only three days before he finished 20th at $61 to the mighty Makybe Diva in the Cup.
Parker began his racing career riding work for trainers Errol Amos at Canterbury and Sid Barker at Nowra, and also went walkabout, as he put it, working for David Balfour in Adelaide for five or six weeks.
But the five or so years he spent with Hall Of Famer Les Bridge at Randwick unquestionably were a great learning curve and left him with an appetite to train in his own right.
"Les was brilliant to work for, and the fact that David Van Dyke (then David Hayes) and Tim Martin were there at the same time as I was, and we all went on to become Group 1 winning trainers, says it all," Parker said.
"I had a lot to do with horses such as Melbourne Cup winner Kensei and Row Of Waves, and the little champ Drawn, who became an established Group 1 performer.
"When Drawn finished, I headed back home to Kembla to help out David, who had started training here.
"I said I would ride work for him for three months, and never left."
Parker says he was small and always wanted to be a jockey – but was never the right fit!
"I was just a bit too heavy," he said. "It was when apprentices could claim 3kg on a horse weighted at 49kg, and I was around 51 or 52kg."
Parker's maiden Group 1 success came with Dark Dream (Tim Clark) in the 2018 Queensland Derby (2200m), run at Doomben that year as Eagle Farm was closed.
It was laced with a mixture of joy and disappointment as he lost the young stayer afterwards to Hong Kong.
"David Van Dyke accommodated us at his Sunshine Coast base, and my son Aaron spent eight weeks there with the horse, and did a terrific job," he said.
"But we were never sure even leading up to the race we would keep Dark Dream. It was one of those things where you would wake up in the morning wondering if you still had him.
"When he won the Derby, there was a great deal of satisfaction that we had achieved what we set out to do."
Luck is worth a fortune, and whilst Dark Dream's loss was understandably tough, now dual Group 1 winner Think It Over joined his team totally out of the blue 12 months later in mid-2019 as an unheralded three-year-old who had raced six times for a Goulburn 1300m Maiden win and subsequent placings at Hawkesbury, Scone and Randwick.
"Richard Johnson, who had Bylong Park then, had a share in a horse which the late Guy Walter sent to me," Parker explained.
"Guy was a champion bloke and always had a bit of a wrap on me.
"He used to say I was Australia's best kept secret, and loved competing against me.
"We went head and head in the straight in the 2012 ATC Oaks at Randwick when his odds-on favorite Streama just edged out my filly Aliyana Tilde, and he was over the moon about the contest.
"The horse that Guy recommended be sent to me might have had only one or two starts for us, and I told the owners not to persevere with him.
"For some reason, Richard must have remembered that and rang to arrange to come and see me.
"He had bred Think It Over (by international star So You Think from the Zabeel mare Personal Service, who never raced after being unplaced in a 900m Rosehill trial in January, 2008), but didn't offer him at the sales as a yearling as he was leggy and immature.
"Four horses came to me; two geldings and two fillies.
"The only one I finished up keeping was Think It Over. My first impression was that he was a lovely animal and whilst I obviously knew he had ability, naturally you can never predict at that stage they would win a $4m Queen Elizabeth.
"However, I'm sure the fact we didn't push him and allowed him to mature has been most beneficial."
Parker had an immediate impact with the now six-year-old, winning a Hawkesbury Class 2 Handicap (1300m) in September, 2019 with him at his first start for the stable, outbobbing Godolphin's $2.35 favorite Sakura in a tense finish in the centre of the track.
Twenty-eight starts later, Think It Over has earned more than $7m, with two Group 1s, three Group 2s and as many Group 3s to his keeping.
The gelding left Parker's stables last Tuesday morning for a well-deserved rest at Jazcom Thoroughbreds at The Oaks, with the Melbourne spring carnival uppermost in his trainer's thoughts.
"Think It Over will be entered for the Cups (Caulfield and Melbourne), but the Cox Plate (2040m) at Moonee Valley is our main goal," he said.
"He'll follow a traditional weight-for-age path, unless Peter V'Landys puts on another $1m race in Sydney this spring," Parker added tongue-in-cheek, a reference to the $1m bonus his gelding collected by staying put last spring instead of heading south for a Cox Plate tilt.
The affable Kembla trainer's list of burgeoning credits with Think It Over hasn't in any way affected his plan to continue with a boutique stable.
"I keep between 12-20 horses in work, and cull from the bottom to keep as much quality as we can," he explained.
"But I am looking for owners for a couple of yearlings I bought at the Inglis Classic sale earlier in the year."
Parker's father lives in Nowra and his mother in Townsville, and of course follow his career closely.
"They are great supporters and very proud," he said.
In fact, it was Les Parker who was instrumental in his son becoming involved in thoroughbreds.
"Dad had a share in a trail riding business in Kangaroo Valley (in the Shoalhaven region on the South Coast), and that's where I first became interested in horses," he said.
Nowadays, Kerry Parker is blazing his own trail in racing – and doing it brilliantly.