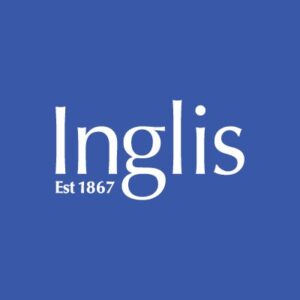 Inglis proudly bring you:
Mark Minervini – Checked Out To Become A Trainer
By John Curtis
FROM operating a checkout counter in a supermarket to checking out the horses!
It seems the unlikeliest of transitions, but MARK MINERVINI has handled it with aplomb.
The former South Australian trainer who shifted interstate to Newcastle with his wife Michelle in August 2019 to begin a new chapter in his career, got involved in racing on the advice of his late father Peter, an elite Aussie Rules footballer, who played for Norwood in the SANFL competition.
"My brother and I were running a supermarket in an Adelaide suburb for our parents, stocking the shelves, operating the checkouts, etc," Minervini explained.
"But when a major chain opened up a store only 1km away, that was the end of our supermarket.
"I had nowhere to go, and Dad suggested I should work for a thoroughbred trainer because he considered I could eventually make a living from it."
Minervini was 24 years of age and didn't have any previous involvement with thoroughbreds, although he regularly went to Wayville and later Globe Derby Park trots with his father.
"We had Arabian horses as kids and used to take them to the various shows, and whilst it was enjoyable, it didn't put any money in our pockets," he said.
"That's why Dad reckoned racing would be more profitable."
Enter the wife of trainer Brian Murphy (coincidentally a former harness racing trainer) who also had a business at the same shopping centre as the Minervini supermarket, and mentioned her husband was looking for staff.
Minervini secured a job with Murphy – who initially put the polish on six-times Group 1 winner Durbridge – and worked with him for three years.
When Durbridge subsequently joined by agreement Lee Freedman's team in Melbourne, things were pretty quiet at the Murphy stable and Minervini ventured across the border to join 1985 Melbourne Cup winning trainer John Meagher to further his career.
Two weeks later, he was back in Adelaide. "I got homesick and it didn't work out," he said.
Minervini applied for a trainer's licence. A couple of guys were looking to race a horse, and he noticed a Bluebird mare advertised for sale in the Sporting Globe.
"Her name was Malibu Lights and she had raced three times for two wins in town.
"For some reason the owner, who had paid $40,000 for her as a yearling, decided to sell and I talked the guys into buying her for $15,000."
Thanks to that mare, Minervini had a quick introduction to the winner's list in Adelaide. She won on September 25, 1993 – the day Essendon Bombers thrashed Carlton Blues by 44 points in the AFL grand final.
"The Crawford family raced Malibu Heights, and were AFL fans. They went to Melbourne for the game and missed seeing her win," he said.
Not so long after, Minervini noticed another Bluebird youngster – he liked the quality of the stallion's stock – named Linbird come from last to run third on debut, and negotiated the youngster's purchase for $25,000 on behalf of Malibu Lights' owners.
"Linbird won our first stakes race for us, taking the De Costa Plate for two-year-old colts and geldings over the straight 5f (1000m) at Victoria Park in April, 1994.
"He also won the Group 3 National Stakes at Morphettville on Adelaide Cup day the following month.
"I was having a dream run at the time, and thought how easy is this? Of course, all these years later I  know how hard it is."
Minervini was operating stables in both Adelaide and Melbourne (at the Macedon Lodge purpose-built property) when he bought a bevy of horses at the 2005 Inglis Premier yearling sale.
The standout was a Testa Rossa filly he had picked up on spec for $130,000 – then couldn't get anyone to take her.
Having arranged 90 days' credit with her breeder, he hadn't sold a single share within days of the deal ending when a few of his clients, who were Toyota dealers, came to the rescue and bought her.
Racing as Vormista, she won four races and was placed six times in a 17-start career which netted nearly $500,000 in prizemoney and included a Group 2 success at Flemington in the spring of 2007.
But it could have been so much better. She was a Group 1 runner-up three times; narrowly beaten in two of them (by Gold Edition in the 2007 Manikato Stakes at The Valley and Apache Cat in the 2008 BTC Stakes at Doomben).
Minervini was confident Vormista could crack a Group 1 in the Robert Sangster Classic against her own sex back home after again chasing home Apache Cat in early 2009 in the Australia Stakes at The Valley.
She never made the race unfortunately, having injured a leg in a lead-up track gallop and was sold as a broodmare to a client of Kitchwin Hills Stud in the Hunter Valley.
Though Minervini hasn't trained any of her foals, he retains a strong link to his favorite mare, with two of her lightly-raced grandsons gracing his Broadmeadow stable.
"Fire And Ice is a Hellbent two-year-old who ran fourth on debut at Randwick, and I'm sure he is a city winner in the making, whilst Dissident three-year-old New Republic was a Taree winner in February, and won again impressively from a wide draw at Mudgee," he said.
Minervini, concerned with the state of South Australian racing and aware the industry in New South Wales was surging, ran into another South Aussie, then Newcastle Jockey Club racing manager Michael Buckley, when attending the Inglis Classic yearling sale in the summer of 2019.
Buckley sowed the seed and a subsequent trip to Newcastle a few months later put the icing on the cake. With the sanction of his owners, Minervini took the plunge and bought 11 horses with him when he upped stumps and escaped the latter part of Adelaide's winter of 2019 for Newcastle's temperate climes.
He didn't take long to make his mark. A fortnight after arriving, he won with Calipari on his new home track and then the next month with Martinique (out of a Bluebird mare) at the Newcastle Cup carnival.
He has won 32 races from his Newcastle base (the latest a Mudgee double on April 3 with So Sassy and New Republic), including a combined nine with French Response and Super, two horses he brought with him.
"Even though she did a good job, we never saw the best of French Response, and she has been retired," Minervini said.
"Super won at The Hunter metropolitan meeting at Newcastle in November, 2020, but didn't fire last time in work.
"I've changed strategy with him and he had a good spell and has come back about 25kg lighter. He definitely has the ability to win in town."
And he has a promising young sprinter Quick Tempo, who won his first five races and is another whom he is confident can measure up to city standard.
Minervini admits he didn't realise how big a move it was when he and his wife decided on a sea change.
"I didn't have a jockey, trackwork rider, farrier or vet. I had to start from scratch," he said.
"Probably, we wouldn't have moved if I had realised the enormity of it all, but thankfully we didn't.
"We're very happy we came. We're still here and still punching."