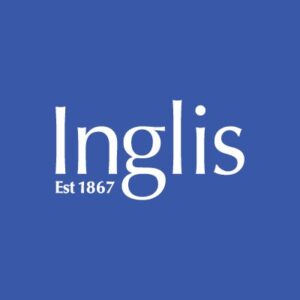 Inglis proudly bring you:
Paul Perry – Our Very Own Royal Ascot Trail-Blazer
By John Curtis
IT'S 19 years since Paul Perry set the racing world alight by achieving the "impossible" – winning Royal Ascot's famous sprint double with a horse from the other side of the world!
Hard to believe it was almost two decades ago when Choisir (who died in December last year at 22 years of age) won both the King's Stand Stakes (1000m) and Golden (now Platinum) Jubilee Stakes (1200m) on the first and last day of the historic five-day carnival, in the presence of Her Majesty The Queen.
But the iconic Newcastle trainer remembers it as though it were yesterday, and understandably acknowledges such an outstanding achievement as the highlight of his 50-year career.
"Winning the Golden Slipper with Stratum in 2005 was pretty good, but carrying off the double at Royal Ascot with Choisir was something very special," he said.
"This would not happen to you in 10 lifetimes. Royal Ascot is a magnificent carnival, equal to anything."
Something very special indeed. Taking a horse, albeit full of class, on a near 20,000km 32-hour flight to get to the United Kingdom appeared an impossible dream.
It wasn't of course but there was more than a touch of irony that it happened at all as Royal Ascot wasn't the initial target.
Perry was heading to Singapore with the Newcastle colt for the Kris Flyer Sprint, but the SARS virus outbreak forced racing there to halt.
As an international talent scout, "Kiwi Jack" Petley stepped in and contacted Perry about sending the horse to England.
Perry knew it was a daunting task, but agreed to take up the challenge as Choisir already had been given his innoculations.
And the master trainer had previously undertaken overseas forays to New Zealand, Hong Kong and Dubai with other Group 1 horses Dantelah, Notoire and Bezeal Bay.
Additionally, he had noted during a Hong Kong trip with Dantelah for an international meet that "a couple of English sprinters weren't up to scratch."
"The officials at Royal Ascot were keen for us to start Choisir in both races, so it was always on the cards having a crack at the double," Perry said.
"That was never going to be a problem anyway.
"Choisir was the perfect horse to take there. He was a placid big bugger, wasn't a sulker, and ate up after winning the King's Stand. He was even better going into the second race four days later.
"Just as he was at Flemington the previous spring when he beat his own age on the Saturday (before being controversially relegated to third on protest) and then beat older horses in the Group 2 sprint at weight-for-age five days later."
In bringing off one of international racing's greatest achievements, Perry blazed a trail for future Australian trainers at Royal Ascot.
Remember Joe Janiak with Takeover Target, Lee Freedman with Miss Andretti, Dan Morton with Scenic Blast, Tony Vasil with Haradasun and of course Peter Moody with the unbeaten champ Black Caviar.
Not forgetting Starspangledbanner either. The son of Choisir, originally trained in Melbourne by Leon Corstens, was transferred to Irish wizard Aidan O'Brien and also won the Jubilee seven years later in 2010.
Irish jockey turned trainer Johnny Murtagh rode Choisir in both his Royal Ascot wins, and also partnered Starspangledbanner.
Perry's son Shannon and trackwork rider Lyle Weaver took Choisir to the UK via Melbourne before the trainer arrived to put the finishing touches, and he will never forget meeting the Queen after winning her race on the last day of the carnival.
"She was fantastic; so wordly," he said. "It was Prince William's 21st birthday party that night, and she said she couldn't wait to get home and take her shoes off and get into something more comfortable."
The SARS virus aside, the Royal Ascot venture may never have eventuated if Perry had not seen Choisir's sire Danehill Dancer win a race at The Curragh during a trip to Ireland many years earlier.
"I was impressed with him and when his progeny was offered in Australia at the 2001 Inglis Classic yearling sale (at the old Newmarket complex), I was very interested," he said.
"I had never seen Choisir but knew he was in the catalogue and got him out of his box at Newmarket.
"He was a lovely colt. I really liked him and was rapt to be able to take him home."
Choisir was knocked down to Perry for $55,000, and he raced him with Newcastle's Wallace family (Terry and wife Diane and children John and Helen).
After arriving in England, Choisir was based at Newmarket, which Perry described as "horse heaven", and relates an interesting sidelight in the lead-up to the horse's English debut.
"Royal Ascot held a press conference on the Friday prior to the carnival, and sent a helicopter to Newmarket to pick up Shannon and myself and Godolphin trainer Saeed bin Suroor.
"Saeed blessed himself five times before we got in the helicopter. Shannon and I looked at one another and thought 'bloody hell'.
"We made it there safely, and walked the straight track. It was unbelievable; plenty of dips and very testing for horse and rider."
Choisir was sold to Coolmore after his Royal Ascot double, and stayed on for the July Cup (1200m) the following month at Newmarket.
He ran second to Oasis Dream at his final start, and his trainer is adamant it would have been a different story had he been able to get another week's work into him.
"Choisir had a couple of easy weeks after Royal Ascot before the decision was made to run him at Newmarket after the stud deal was done. He was underdone."
Perry was born into racing. His late father Ron was a successful jockey and his late mother Beryl's father Bert Dunning trained.
He began going to his grandfather's stables as a two-year-old and at 15 became apprenticed to then leading Newcastle trainer Ray Wallace.
Perry achieved a 100 per cent result with his written test to gain his apprenticeship, and rode his first winner in November, 1964 at his sixth ride.
Increasing weight curtailed his days in the saddle, and he called it quits at 17 with 25 wins to his name.
His racing career stalled for a while, and he worked at the dockyard. But the best was yet to come.
Having been called up for National Service, Perry was a mere week away from being sent to Vietnam when Labor's Gough Whitlam won Government and put a stop to Australian troops going there.
Perry took out his trainer's licence in 1972 and his first winner Secret Jim, on his home track in April the following year, was fittingly ridden by his brother Ron Jnr.
His Group 1 breakthrough came in the 1994 Epsom Handicap at Royal Randwick with Navy Seal (Darren Beadman), and his latest triumph at racing's elite level was in 2017 with Choisir's son The Mission (now at stud in Queensland) in the Champagne Stakes, also at Randwick.
Perry attempted to repeat Choisir's Royal Ascot feat with the now highly successful stallion Fastnet Rock two years later, and the magnitude of his 2003 deeds became even more evident when the latter contracted travel sickness and couldn't run.
"He would have been very hard to beat, too," Perry lamented. "Cape Of Good Hope ran fourth in the King's Stand before winning the Jubilee, and Fastnet Rock had beaten him easily in the Lightning at Flemington earlier that year."
Perry hasn't been back to Royal Ascot since. "I haven't had one good enough," he said.
"But the prizemoney is outstanding here now anyway. The Everest wasn't around when Choisir went to England, and he would have been the ideal type for it."
Perry, whose magnificent career tallies around 4000 winners including 12 Group 1s (the King's Stand was elevated from a Group 2 back to a Group 1 not long after Choisir was successful), will turn 73 next month. But don't dare mention the "R" word to him!
"I still love what I'm doing," he said. "I get up at 2.30 am six mornings a week to go to the stables and then the track, and 7 am on Sunday to run my eye over the horses at the stables."
HOOFNOTE: Sydney supremo Chris Waller will run last year's The Everest winner in tonight's King's Stand Stakes at Royal Ascot, and Coolmore Stud Stakes winner Home Affairs in Saturday night's Platinum Jubilee Stakes, where he will be joined by Anthony and Sam Freedman's Artorius.