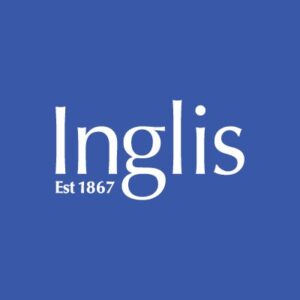 Inglis proudly bring you:
Terry Croft – Bread And Butter Horses His Specialty
By John Curtis
THERE'S no escaping the fact that TERRY CROFT has a knack of getting hold of a handy horse.
As with many trainers, he isn't Robinson Crusoe when it comes to not having Group 1 performers, but "bread and butter" horses are a different story.
Take the now nine-year-old No Escape, who retired as the winner of eight races (including two in town) along with 14 placings and collected $327,725 before being retired late last year.
Not a bad return at all for a horse who cost only $1500 as a yearling!
"Luke McKenzie bought him privately after he was passed in at the 2014 Inglis Classic yearling sale winter book," Croft recalled.
"He syndicated him amongst some regulars at the Royal Hotel at Richmond, including the former publican Mal Russell, who now looks after the horse at his Rylstone stud farm.
"We gave No Escape time and didn't start him until well into his three-year-old season.
"He was placed at three of his six starts in his first campaign in 2016, and broke through at Gosford at the end of that year as a four-year-old.
"No Escape was a terrific horse for the stable. As well as his two wins in town at Rosehill at good odds ($13 and $31), he also won three races at Mudgee, including a couple of trophy races."
This has been a season to savour for Croft, one of Hawkesbury's longest-serving trainers.
He has won a personal best 10 races; a great result considering he rarely has more than a dozen or so horses in work.
And he's a horseman right down to his bootstraps.
At 66 years of age, Croft still rides trackwork. But not as often as he used to, he says.
"I've got a couple of girls working for me, and I ride the horses that are tougher to handle."
Croft has long been involved with horses.
"I had ponies as a kid and went to the shows," he said.
"I wanted to become an apprentice jockey, but was a bit too big."
Born at Penrith, Croft began working for Rosehill Gardens trainer Bede Horan, so it was fitting that his two city victories with No Escape were at that track.
"I spent a year with Bede before moving to Hawkesbury as it was just around the corner from home," he explained.
Croft joined trainer Terry Hore, who was instrumental in him fulfilling his ambition to be a jockey, albeit in the amateur ranks.
"I rode work for Terry, who was one of the best amateur jockeys of his time, and also rode in Hong Kong in the earlier days of racing there.
"He pushed me into riding in amateur races, and I had some success riding at the various meetings, and won a Campbelltown Cup."
Croft spent a year at Canowindra with Terry Pracey riding work, then returned "home" to help out Barry Cameron breaking in the Ingham's horses at Castlerereagh.
He became a Queenslander for a period in the early to mid-1980s, hopping across the border as his parents had moved north.
After taking out his training licence, Croft became a part of history which can never be taken away from him.
"I trained at Deagon (on Brisbane's northside) initially, and then Caloundra when the new track at Corbould Park opened in 1985, and had a runner at the first meeting (Kevin Mitchell won the Cup on Rock Show for the legendary late Toowoomba trainer Jim Atkins)," he said.
"My horse Pedro's Tigress ran fourth to Bruce McLachlan's grey McGettigan in an 1800m race, then won at Doomben a couple of weeks later.
"As a result, I became the first Caloundra trainer to win a race in Brisbane.
"But there wasn't a lot of money on offer in Queensland at the time, and I moved back to Hawkesbury, and started riding work for trainer Robert Johnson."
Croft has been an important member of the Hawkesbury racing family ever since.
As well as winning eight races with No Escape, he also had considerable success with a Switch In Time gelding called Regional Time in the mid to late 1990s.
"I broke him in and trained him throughout his career." Croft said. "We won 10 races with him, including one at Warwick Farm toward the end of 1998.
"The interesting thing there was that Jon Grisedale (now based at Coffs Harbour where his wife Donna trains) was the only jockey who won on Regional Time.
"He rode the horse in all but seven of his 52 starts."
Grisedale clearly had a special affinity with Regional Time, as the gelding never managed a placing whenever he didn't ride him.
Lady La Douce was another genuine performer for the stable between 2010-14. The Foreplay mare won six races, including two in town at Canterbury and Rosehill, and along with eight placings and a BOBS bonus, earned just over $200,000.
With a boutique stable as such, Croft doesn't mind travelling to the bush with his horses to win races.
"You have to go where you think you can win, and I enjoy going to the country anyway," he said.
"The hospitality is always great, and the clubs appreciate you supporting their meetings."
Croft has been a regular visitor to the annual Forbes Cup meeting in late July/early August – and plans to be back there again with a couple of horses for the Sunday Showcase program at the end of next month.
He has enjoyed success at Forbes, winning five races, and also disappointingly lost one of his good horses Vite Loni, who started favorite in the 2016 Cup.
The Lonhro gelding went amiss during the race and had to be humanely put down.
"Vite Loni's first win was at Canterbury in December 2013, and also was narrowly beaten in the Grafton Guineas the following year and won the Broadmeadow Mile at the Newcastle Cup carnival a year later," Croft said.
No stranger to patronising Grafton's famous July carnival either, Croft won the 2013 Big Maiden with Catseye Surprise.
And that mare also played a part in his remarkable strike rate at Port Macquarie.
"I took her there for the 2014 fillies and mares' feature, the Queen Of The North," Croft said.
"She ran third and went back 12 months later and won the race.
"Catseye Surprise also won for us at Canterbury at $20 in between those races."
Croft cracked a Port Macquarie double on June 2 with Lady Lucilla and Just A Brother, and has a better than 50 per cent win record at the track, boasting seven victories from his 12 starters.
Nine days later at Newcastle, he made it two on end with Denman four-year-old Straya Pride to give him his best ever season.
"It's been a very pleasing year with the stable performing so well," Croft said.
"I've got some nice young horses including the two-year-old Kandos Cosmos, who ran second on debut at Canterbury in May at $81, so hopefully we've got further good seasons ahead.
"I'll keep going and give it my best shot. I don't lay bricks and I'm too old to do anything else anyway.
"Training is what I know."