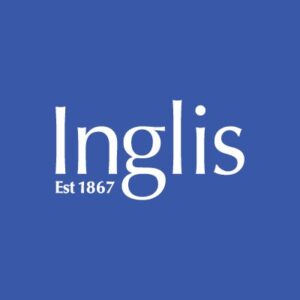 Inglis proudly bring you:
Todd Smart – Hungry For More City Wins
By John Curtis
RIDING in rodeos or winning a race in town!
Which is best?
It's a "no brainer" says TODD SMART – and he is suitably qualified to comment.
The Canberra trainer has done both, and didn't hesitate when the question was posed to him.
"Absolutely winning a race in town," he said.
Who could argue – especially as it wasn't simply a winner in town, but his very first!
That came at a midweek meeting at Warwick Farm on May 11 when his talented five-year-old Washington Towers handled the "Heavy 10" with aplomb to land a Benchmark 72 Handicap (1000m) by more than three lengths.
"It was a massive thrill," Smart said. "I had been trying to break through in town for quite a while.
"And to finally achieve it with this horse was very special as he is owned by a fantastic group of people, including my good mate and racing manager Ben McAlister."
Smart and his brother Joseph went to the Inglis Ready 2 Race sale in Sydney in mid-October 2018, and returned home with the aptly-named son of Whittington (the now five-year-old's dam is Gee Trump) after securing him for $62,500.
"We looked at a few two-year-olds, and settled on Washington Towers," he said.
"He was a nice athletic type.
"His half-brother Up Trumpz had won four races for Joe Cleary (Queanbeyan trainer) at the time.
"I liked the way Washington Towers walked around, and he galloped well. There was something about him."
The Ready 2 Race purchase gave his owners an immediate return when he won a 2YO Maiden Plate (1000m) at Wagga on January 11, 2019.
Ridden by Billy Owen, Washington Towers defeated Redicon, who had contested the Group 3 Breeders Plate at Royal Randwick a few months earlier for the late trainer Neville Layt.
The gelding started at $19 ($26 was bet) and his victory wasn't a surprise at all. "They bet us good odds," Smart said.
Such was his opinion of his young sprinter that Smart took him to Randwick and Caulfield for his next two starts – but he finished down the track both times.
"Being an Inglis purchase, he was eligible for those races but really wasn't ready," Smart said.
"Washington Towers has had a few issues during his career, but nothing really major.
"That's why as a rising six-year-old he has raced only 22 times for eight wins and four placings.
"Even though he has been winning on these heavy tracks, he is better on soft and good ground."
Gundagai born, Smart has long had an association with horses, enjoying camp drafting and riding bulls at rodeos in his younger days.
He travelled overseas for a couple of years, competing in rodeos for nine months, but modestly says "I wasn't all that good at it".
A welder by trade, Smart worked for global construction complex Multiplex on the new Wembley Stadium in London, which was built on the site of the old stadium and opened in 2007.
He is most appreciative of the role Gundagai Tigers rugby league club chiefs Martin Hay and David Tout played in getting his racing career off the ground after he returned home.
"Martin and David knew Randwick trainer John O'Shea, and arranged a job with him," he explained.
"I spent three and a half years with John, and it was a great experience.
"He taught me how to ride trackwork, which gave me another string to my bow."
Smart then moved south to join Caulfield trainer Colin Little, and became his assistant trainer.
"I was thrown in the deep end as Colin's now late wife was battling a brain tumour, and he had enough faith in my ability to rely on me to look after the horses.
"They were great times working with Group 1 horses such as El Segundo (the 2007 Cox Plate winner at Moonee Valley), Blutigeroo (2007 Tancred Stakes winner at Rosehill Gardens), and Ista Kareem (2009 Sydney Cup winner at Randwick)."
After a seven-year stint with Little, Smart joined the Lloyd Williams team at his magnificent Macedon Lodge training centre for a year and a half.
With his partner pregnant, it was time to return home and Smart initially began training at Wagga, where his first runner, former Queensland mare For Mia, ran sixth as a $13 chance at Wodonga on July 27, 2014.
Less than three months later and having only his second start for his new trainer, Reka Outlaw ($5) bolted home by three and a half lengths in a Benchmark 55 Handicap (1300m) at Wagga to give Smart his breakthrough success.
Smart's racing colours of black and gold (which Washington Towers sports) were spawned by a love for a local hero when he was growing up.
"It was a horse called Carvalin," he said. "He was trained by David Blundell, and was a marvel.
"He had 127 starts and won 25 races and was placed 38 times.
"Carvalin won three Tumut Cups, two Gundagai Cups and a Snake Gully Cup also at Gundagai.
"He was my favorite horse as a kid, and my grandfather Laurie Smart was friends with the owners.
"When I began training, they were happy for me to use the colours Carvalin raced in."
Having trained at Wagga for 18 months, Smart had the opportunity to switch bases to Canberra in 2017, and is thoroughly enjoying being there.
"The training facilities are excellent, and I've got a good set-up," he said.
"I have a terrific group of clients, who are very loyal.
"We have 14 horses in work at present, and there's always room for more.
"I love what I'm doing. I live and breathe racing."
Whilst Washington Towers is the current stable star, Smart also had a good opinion of Star Witness three-year-old Kelvedon Road, who has won three of his 10 starts to date.
Another product of the Inglis Ready 2 Race sale (this time in 2020 for $17,000), the gelding was runner-up in the Albury Guineas in March and was spelled after contesting the Group 3 Carbine Club Stakes at Randwick in early April on the opening day of The Championships.
Smart says his training business at Canberra is a real family affair.
"Mum (Megan) and Dad (Bob) and my three brothers Joseph, Jake and Rhys are great supporters.
"Dad and the brothers run a butcher shop at Gundagai."
Washington Towers followed his Warwick Farm win with another impressive victory in a Benchmark 68 Handicap (900m) under 60kg at Newcastle on May 28, making it four wins from five starts this campaign.
Smart, who will turn 40 in October, is enjoying a benchmark season, having prepared 16 winners and his horses have earned $392,000 prizemoney, almost double his previous best.
And it's not over yet, as he has set his sights on winning another city race with Washington Towers, this time upgrading to a Saturday Benchmark 78 Handicap (1000m) at Randwick this weekend.
"Now that I've won a city race, I'm even hungrier to win more in town," he concluded, no doubt keen to get in for his own "chop" again!