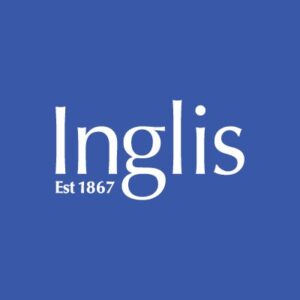 Inglis proudly bring you:
Steve Hodge – Five Decades Of Racing Experience
By John Curtis
TALK about being "in the swim" of things!
STEVE HODGE has been involved in Newcastle racing for five decades, starting out as 12-year-old schoolboy helping out at stables at weekends before taking out his training licence in 1986.
Now in his 36th year as a trainer, the 64-year-old is also looking after Newcastle Jockey Club's equine pool on the Broadmeadow racecourse site.
"I was keen to manage the pool a fair while back, but my close friends Brad and Frances Marshall were looking for a small business at the time and I talked them into doing it and Brad ran it for 17 years," Hodge said.
"When he retired, I didn't hesitate to talk with the NJC and took out a lease four and a half years ago.
"It's getting busier all the time at the pool with more horses being trained here.
"We average 60-70 horses swimming six days a week, but recently had 140 in one morning when heavy fog meant trackwork couldn't proceed.
"The horses were stacked up waiting their turn to get in."
As a result of running the pool, Hodge has cut back on the number of horses he has in work.
Whereas he kept around 15 on average, it is now less than half that.
"I've got only five or six in work, mainly for friends," he said. "It would be too difficult to train more than that as the pool opens at the same time the track does.
"I'm fortunate to have good help from Bianca Casetta and trackwork rider Josh Langridge."
Hodge swapped tools for saddles when "bitten" by the racing bug.
Born and raised at the Newcastle coastal suburb of Merewether, his family had no involvement at all with racehorses.
"Dad was a builder and I was apprenticed to him for a few years when I finished school," Hodge said.
"For some reason, I always liked horses and used to have ponies.
"Max Lees had just started training and had only a couple of horses when family friend John Colvin (the late Newcastle Jockey Club employee who helped out various trainers in the early hours before starting his main job) began taking me to the track.
"John rode the 1967 AJC (now Australian) Derby winner Swift Peter work at Broadmeadow for Greg Beuzeville, and also introduced me to Merv and Judy Maynard.
"Merv was still riding at the time, and I helped out at the stables at weekends."
As his love for racing grew, he quit working for his father and joined former leading Newcastle trainer Roy Hinton.
Hodge worked for him for 11 years – and could not have had a better tutor!
"They were terrific times," he said. "Roy had a really good stable, with horses such as Manawapoi (1976 Stradbroke Handicap winner), Swiftly Ann, Showcrest, War Chariot, Ontonic, Bandoo Bay, etc.
"And he won 11 races in a row with Lady Manina. I rode her in most of her work.
"I learnt so much from Roy, and he was always willing to pass on his knowledge.
"He was very meticulous with whatever he did, especially how he fed, worked and exercised his horses.
"He was always careful not to gallop them too hard, giving them plenty of slow work."
Even though he rode trackwork, Hodge was too heavy to consider a career as a jockey.
When Hinton called it a day and retired at the end of the 1985-86 season, Hodge had the opportunity to step up as a trainer in his own right.
"Roy finished at the end of July in 1986, and I took over from the beginning of the new season on August 1."
Hodge didn't take long to break through, scoring with one of Hinton's former horses Sailing Solo (ridden by Hall Of Famer Robert Thompson) at Wyong on August 14.
He began his training career with only a handful of horses, and had great support from leading trainers Max Lees and Paul Perry.
"Max and Paul gave me horses to pre-train, and that certainly helped," Hodge said. "I will always be appreciative of their assistance."
The month of May in 2003 will live long in the trainer's memory, as he went within an ace of achieving a remarkable treble with Silent Impact, who had won the 2000 Newcastle Cup for Wyong's Neville McBurney at the first Saturday stand-alone meeting held outside the metropolitan area.
Hodge was the fifth trainer of the New Zealand-bred gelding, and won the Group 3 Gosford Gold Cup (2100m) on May 8 with him at $31, and the Listed McKell Cup (2400m) at Rosehill Gardens 23 days later.
Matthew Paget rode him in both races, but Bernadette Cooper (now Sky Racing Brisbane commentator) had the mount in between when Silent Impact was photo-finished out of the Listed Lord Mayor's Cup, also run at Rosehill.
And there's a tale to that.
"Rosehill was a 'Heavy 10' that day and the Cup had to be reduced from 2400m to 2000m," Hodge explained.
"Jack Denham's Majestically nosed us out and was suited at 2000m, whereas our horse was looking for the 2400m.
"He turned the tables on Majestically a fortnight later in the McKell Cup when he got to the 2400m."
Understandably, Hodge rates Silent Impact as the best horse he has trained, but also has a soft spot for Road To Skye and Geigeron.
Road To Skye was Hodge's first and only Group 1 runner when fifth to another Newcastle filly Angst in the 1993 Flight Stakes (1600m) at Royal Randwick.
"She was beaten only one and a half lengths, and went on to prove herself up to city standard before going amiss," he said.
"Geigeron won five Saturday races in town for his owners Barry and Linda Pont, along with two Inverell Cups and a Moree Cup.
"I enjoy taking horses to the bush. The country hospitality is always fantastic, and the clubs can't do enough for you."
Hodge also gained a reputation as an excellent tutor of apprentices. Blake Spriggs, Scott Thurlow, Mathew Scorse and Alex Stokes all spent time with him.
Spriggs was on loan to Gai Waterhouse when he rode five winners at a Saturday meeting at Rosehill in July, 2010.
And, though not a jockey, godson Jack Marshall also came through the Hodge school of hard knocks.
"Jack went to the track and races with me, and was always keen to be involved in the industry in some capacity," Hodge said.
"He is now on the RacingNSW stewards' panel based at Newcastle, and is going great. He is highly regarded by his peers."
Hodge enjoyed a trip to Hong Kong in 1996 with now Newcastle's leading trainer Kris Lees to prepare Max Lees' Potential Star (1994 Gold Coast Prime Minister's Cup winner) for the QEII Cup at Sha Tin.
"I rode Potential Star in his work, and Wayne Harris went over and rode him in the Cup.
"Kris was just starting out in racing, and we had a great time. Chris Waller hadn't started training at the time, but also was there looking after a horse for New Zealand trainer Paddy Busuttin."
The beginning in 1986 of Hodge's training career gave him an interesting thread with an English soccer player of the same name.
That Steve Hodge was involved in the legendary Maradona's infamous "Hand of God" World Cup goal only a few weeks before his Aussie namesake took out his licence.
It was a quarter-final against Argentina in Mexico City, and Hodge's attempted back-pass to goalkeeper Peter Shilton early in the second half somehow was intercepted by the Argentine star, who punched the ball into the net.
It was incorrectly ruled a goal, hence the "Hand of God" label, and the pair swapped shirts after the game.
Maradona's famous No 10 jumper was housed in the National Football Museum in Manchester on display for nearly 20 years until recently when Hodge announced he was putting it up for auction.
The result? An anonymous buyer forked out a cool A$12.4m to secure the shirt, setting a new record for sports memorabilia.
"I have never met him, but wouldn't mind being the other Steve Hodge," was our "Hodgie's" parting comment!